All our accommodation is on Long Island, Andaman Islands, which is ideally located for touring the islands, with direct links by boat to Port Blair, Neil Island and Havelock, and road links to Diglipur and Port Blair. Although many people are happy just to stay on Long Island for days or even weeks!
To get to the islands, the easiest way is to fly from Chennai or Kolkata. The flight takes 2 hours with a choice of airlines: Spicejet, Air India or Jet, and takes you to Port Blair, the capital. You can also take the ship from Chennai or Kolkata, an interesting trip taking up to 4 days! If you are keen to go by ship, you can check out the schedules on www.shipindia.com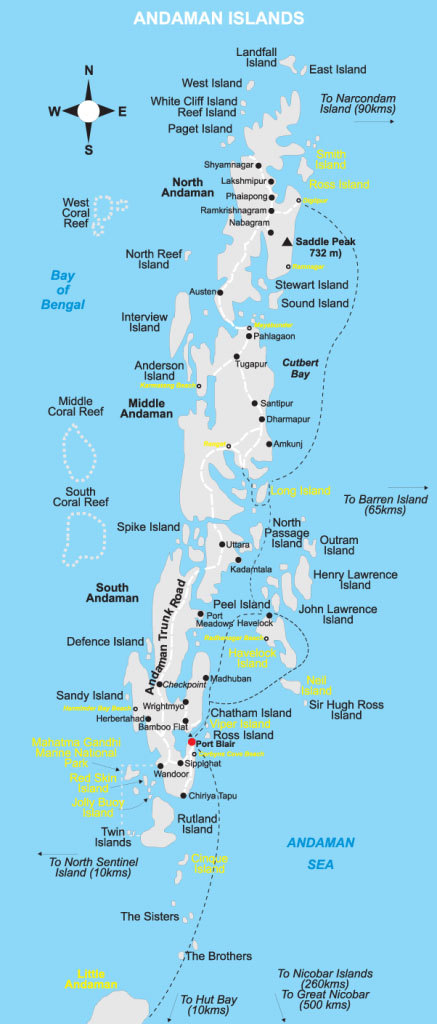 You will probably need to stay in Port Blair for at least one night before moving on to Long Island by boat or by bus.
By boat
There are regular boats from Port Blair to Long Island at 7.00am on Mondays, Wednesdays and Saturdays calling at Neil Island and Havelock. These boats return to Port Blair via Havelock and Neil at 7.15am on Tuesdays, Thursdays and Sundays.
Additionally there is a fast boat on Fridays leaving Port Blair at 7.00 am arriving in Long Island at about 11.00am, returning to Port Blair at 2 pm from Long Island arriving at 6.45pm. This boat stops at Havelock only.
New from 1 October 2023:
There will be a daily boat from Port Blair, leaving at 8.00 am, stopping at Havelock at around 10.15 am, then direct to Long Island arriving at around 12.45 pm. This boat returns on the same day.
You can purchase boat tickets online at dss.andaman.gov.in.
To and from Rangat, on North Andaman, there are daily boats from Long Island leaving at 7am and 2pm and returning at 9am and 3.30pm, making it a good option for day trips or for moving on by bus to Mayabunder and Diglipur. A very lovely 1-hour trip through mangrove creeks, it costs 20 rupees, making it one of the best value trips anywhere!
Long Island is a good place to include in your itinerary if you intend to visit Neil Island, Havelock and move on to destinations in North Andaman such as Mayabunder and Diglipur. We are more than happy to advise if you are planning such a trip.
By bus
It is possible to travel between Port Blair and Rangat by bus. You would need to get the bus at 6.45am from Port Blair to arrive in Rangat early enough to catch the 3.30pm boat from Yeratta (near Rangat) to Long Island. There are later buses up to 11am but the journey takes 6 hours, so you may have to stay the night in Rangat and get the 9am boat to Long Island.
Planning your trip to the Andaman Islands
First of all, this is a restricted area, and foreign visitors must have a Restricted Area Permit. For those travelling by air, this is issued automatically when you arrive at the airport at Port Blair. You will get a permit for 30 days which is currently not extendable. There is no need to apply for your permit from outside the country: it is issued at the airport in any case, and is free of charge
If travelling by ship, you must get your permit at the Foreigners' Registration Office in Kolkata or Chennai.
When you get to Port Blair, we can arrange to meet you at the airport and get you to your choice of accommodation; again, just let us know.
When to go
The Andaman Islands enjoy a tropical climate, with daytime temperatures around 27C to 35C. December and January are the most popular months for tourists, with warm, sunny days and cool nights. The weather is generally dry and sunny from December through to April, with excellent visibility under water. October and November are generally good, but there is a risk of occasional rainstorms.
Blue Planet is open year-round. The quiet season is around May to September, when the islands get most of their rain. Then you can enjoy a different atmosphere, with fewer tourists.