Blue Planet started as an idea in 2006 when the owners Hilary and Iftekhar talked on Neil Island about starting a small resort. It had to be built using sustainable materials: Iftekhar is a building contractor and had worked post-tsunami with Mike Reynolds, the American architect who featured in the film "Garbage Warrior", whose innovative building projects use waste materials such as tyres and bottles.
So we set out to look for land where we could afford it, which ruled out those islands which were already developed as tourist destinations. Then someone suggested Long Island, and we went to visit.
So there it was: a smallish island, about 8km x 2km, with a spectacular beach at Lalaji Bay and sandy beaches all along the western side, an unspoilt village with a bazaar, all connected by boat from Port Blair, Havelock and Neil Island, and with daily boats to Yeratta on North Andaman. Then we found a small piece of land, which we could afford, and best of all, it had the most magnificent ancient padauk tree, the Andaman state tree, right in the centre.
The tree's branches made an umbrella over almost the entire area of the land and only we would have thought of it as a unique selling point.
Throughout the rainy season of 2007 Iftekhar worked day and night with a gang of local people including the 5 Motis (our loyal, hardworking band of women builders) to build rooms, a kitchen and central restaurant.
Getting materials to Long Island was a major challenge. We bought a dunghi (fishing boat) to carry materials, equipment and furniture. Bamboo and wood were harvested from neighbouring islands with permission from the Forestry Department. Most other items were brought either from Port Blair or the mainland. From the nearby jetty everything had to be carried by head-load: without roads or vehicles it was the only way!
Gradually over time we have added walls built from bottles. The restaurant floor was laid using the local, traditional mud based material.
We opened for business in October 2006, offering basic rooms only. Since then we have been making constant improvements, adding attached bathrooms and hot water geysers to some rooms, and acquiring another larger piece of land where we offered small cottages and a camp site. We are gradually building more cottages on this land, which has come to be known as the "Jungle Camp".
We remain committed to our original vision, trying to work in harmony with nature and with the local community. We now offer safe filtered drinking water free of charge, to minimize the use of bottles, and the bottles that come to us we re-use in building projects. We avoid the use of air-conditioning: our rooms are kept cool by building air-flow in to the design, and by effective use of tree-shade. And we employ local people and train them ourselves whenever possible.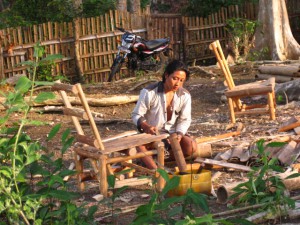 We continue to use local workers and Karen people from North Andaman to do our building work, and over the years we have built up a loyal staff group and developed a very special family atmosphere.